Thermography is a totally non-invasive functional health screening procedure that is pain-free, radiation-free, compression-free and touch-free.
Thermography is a medically calibrated, FDA registered camera with highly accurate heat sensors able to differentiate your body's temperature, which may be indicative of dysfunctions.
Normally, our body's temperature is symmetrical.  However, abnormalities, injuries, pains and abnormal pathology changes the temperature of the surrounding tissue. These differences are clearly visible through Thermography.
Thermography is the only technology that can "visualize" pain, inflammation, infection, and other issues, even before symptoms manifest.
Why Haven't I Heard of Thermography?
In 1982, the FDA approved thermography (also known as Digital Infrared Thermal Imaging) as a supplementary breast screening tool.  But over 34 years later, we hear very little about thermography and its benefits.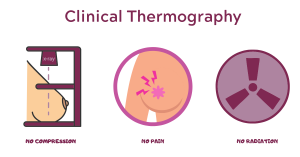 A Few Benefits of Thermography:
Safe, easy, and pain free
No radiation exposure – FDA registered
No compression of breast tissue
Detects changes in breast tissue from the smallest of tumors
Provides ideas of inflammatory breast cancer (IBC)
Entire breast can be imaged
Identifies fibrocystic breast disease or tumor inflammation
Effectively and safely screens breast with implants
Useful for evaluating chest wall after breast surgery
Effective for breast of all sizes
Creates an opportunity for early intervention
Able to differentiate between dense breast tissue, fibrocystic disease, and other abnormalities
Let's Look at Some Facts
In 1982, the FDA approved breast thermography as an adjunctive breast screening procedure
Today, thermography has been shown to detect abnormalities years ahead of mammograms
Second to skin cancer, more women are diagnosed with breast cancer than all other cancers.
Over 30 years of research comprised of over 800 peer-review studies in the index-medicus
Breast thermography has an average sensitivity and specificity of 90%
Only 25% of all cases of breast cancers occur in women with family history
An abnormal thermography is 10 times more significant as a future risk indicator for breast cancer than a first order family history of disease
It was estimated in 2012 that 207,090 new cases of invasive breast cancer were diagnosed among women.
A persistent abnormal thermogram carries with it a 22x higher risk of future breast cancer.
Research has shown that breast thermography significantly augments the long-term survival rates of its recipients by as much as 61%.
Thermography Can Detect:
Breast Issues​
(fibrocystic conditions, mastitis, & lymph congestion for example) ​​​
Artery Conditions​
(stroke potential or inflammation, for example) ​​​
Vein Conditions​
(deep vein thrombosis, for example) ​​
Gut Health, Gallbladder Issues, Diaphragm Restriction
(liver, pancreas, gall bladder, ascending/descending colon, kidneys, for example)
Pre-Diabetic Screening​ 
Dental/Periodontal Issues
(even before your dentist can detect)
Fibromyalgia, Chronic Fatigue, Chronic Immune Deficiency​
Inflammatory Pain​
Carpal Tunnel​
Arthritis​
Sports Injuries
…and much more!